The much-anticipated DPDP Bill 2023 has been passed by the Rajya Sabha, marking a significant milestone in India's journey towards securing digital personal data. As a global leader in the economy and digital innovation, India has taken a decisive step towards safeguarding its citizens' digital privacy.
In this blog post, we delve into the key highlights of the DPDP Bill and introduce CloudDefense.AI – a revolutionary cloud-native application protection platform designed to assist organizations in complying with this groundbreaking legislation.
Understanding the DPDP Bill 2023
The Digital Personal Data Protection (DPDP) Bill 2023 is a landmark legislation focused on preserving the digital privacy of individuals residing in India. As the country continues to excel in the world economy and takes center stage in digitalization, the DPDP Bill aims to regulate the processing of personal data in the digital realm. It encompasses data collected both online and from offline sources, extending its jurisdiction even beyond India's borders.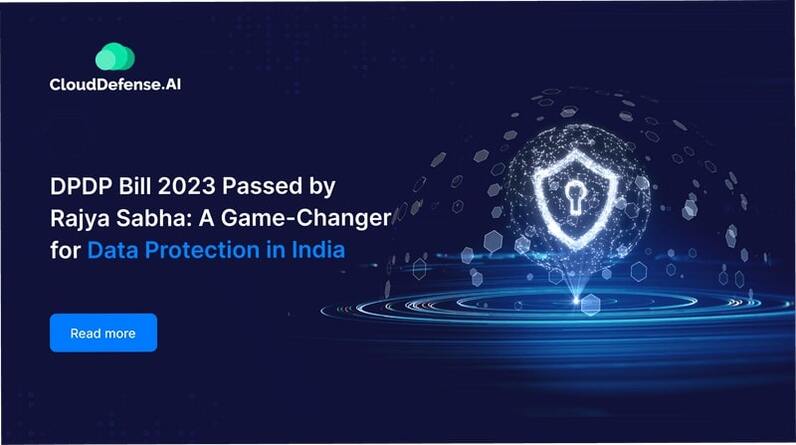 Key Takeaways from the DPDP Bill
Consent-driven Data Processing: The DPDP Bill emphasizes lawful intent and individual consent for processing personal data. However, certain categories, such as willingly shared data or state-handled processing, might not require explicit consent.
Data Accuracy and Security: Data fiduciaries are responsible for ensuring the accuracy and security of processed data. After fulfilling its intended purpose, data must be deleted to prevent misuse.
Individual Rights: The Bill grants individuals rights over their data, including access, correction, removal, and the ability to address grievances.
Exclusions for Government Bodies: Government bodies can be exempted from some provisions of the Bill for reasons like state security, public order, and crime prevention.
Data Protection Board of India: A regulatory body will be established by the central government to oversee violations of the Bill's clauses.
Introducing CloudDefense.AI
In the face of the DPDP Bill's stringent data protection measures, organizations require innovative solutions to ensure compliance while maintaining operational efficiency. Enter CloudDefense.AI – a cloud-native application protection platform designed to align seamlessly with the DPDP Bill's requirements.
Granular Data Protection: CloudDefense.AI offers a novel approach to security by providing granular protection at the application level. This enables organizations to establish fine-tuned security controls that outperform traditional methods.
Automated Security: With real-time threat monitoring and automated response mechanisms, CloudDefense.AI reduces manual intervention, enhancing incident response efficiency in accordance with Chapter 3, Clause 11 of the Bill.
Enhanced Visibility: CloudDefense.AI empowers security teams with insights into application behavior and interactions, facilitating the early identification of anomalies and potential threats, as per Chapter 2, Clause 8.
Microservices and Container Security: Addressing the unique challenges posed by containerized applications and microservices, CloudDefense.AI ensures comprehensive security across the entire architecture, aligning with Chapter 2, Clause 8.
Runtime Protection: CloudDefense.AI goes beyond conventional security approaches by offering runtime protection, detecting and mitigating threats as applications run – in line with Chapter 2, Clause 8.
Conclusion
The DPDP Bill 2023 signifies India's dedication to upholding digital privacy standards and securing its citizens' personal data. With CloudDefense.AI, organizations can embrace the provisions of the DPDP Bill while enjoying an array of advanced security features, from DevSecOps integration to API security and compliance adherence. As India leads the charge in the digital landscape, CloudDefense.AI paves the way for a more secure and compliant future.
Related Articles:
‍