CloudDefense.AI is your single point of control providing a holistic view of threats and mitigating complexity.  Our goal is to reduce the complexity of a large tool stack and allow security teams to focus on fixing vulnerabilities.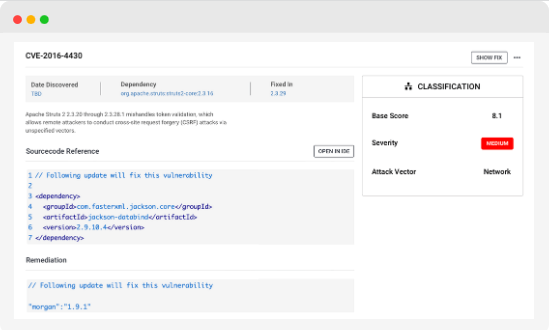 Increase coverage, Reduce costs
We're able to reduce security spend by 40-60% while increasing the attack surface coverage from an average of 30-40% to 80-90%.

This is possible through eliminating shelfware, integrating well with other security tools, and reducing the hundreds of manual hours spent on maintaining, managing, training on, and combining reports from multiple hands-on tools.
One platform to solve many needs
Best-in-class vulnerability database
Our proprietary dataset is powered by vFeed, Inc and several other databases, including NVD (national vulnerability database). It up-
dates twice a day to ensure you always have the most recent updates and peace of mind.
Security at the speed of DevOps
Automate as much or as little of your security process across your CI/CD pipeline as you like, thanks to our vast integration market-
place that is continually being added to.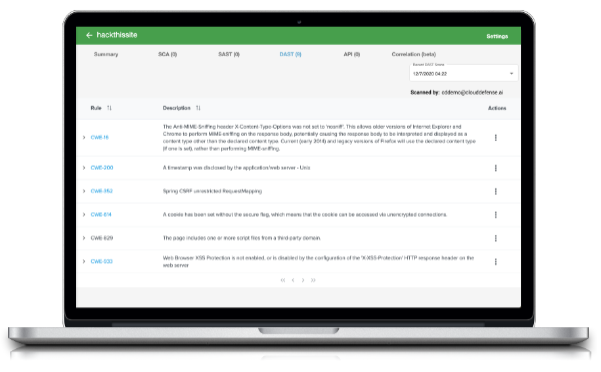 Establish a quality gate
In an effort to ensure that products are released on time, sometimes vulnerabilities get slipped into production and this could cost your team a lot in terms of time, money, and reputation. We eliminate that issue with build policies that act as a quality gate.
Reduce compliance risk
Control the open source licenses and third party software components used in your build pipeline to achieve better compliance and reduced risk.

Turn-key solution for DevSecOps
Shifting left has enabled companies to realize immense savings but it takes a lot of time to enable.
With CloudDefense, shifting left has never been easier as you don't need to be an expert or spend hundreds of hours setting up systems to cover all of the various languages and build systems your company uses.

There are many intricate layers of an application that make up the potential attack surface and they all need to be protected in order to have peace of mind.
Instead of using many tools to achieve this, our customers are able to use one or two to achieve comprehensive coverage of their attack surface.

Instead of spending hundreds of hours manually combining reports when you're asked "So how is the security health of the company?", we give you the answer at the click of a button.
An eagle eye's view of the security posture of your entire organization. Or just for each application – you choose.
How CloudDefense.AI's Data Security Platform
Gets and Keeps You Compliance-Ready
Ready to see us in action? Schedule a time
to speak with our team!
Spot unknowns sooner and continuously watch for signs of compromise. Take us on a test drive to see for yourself.