In the modern cloud ecosystem, most businesses are operating through cloud-based services like AWS, and this has led to a significant increase in security breaches. From small to large businesses, everyone utilizing AWS is largely affected by frequent security risks.
It has become imperative for security teams to utilize automated security services for safeguarding personally identifiable information (PII) and other ever-increasing sensitive data in the AWS cloud. Leading cloud security service, CloudDefense.AI integrates with Amazon Macie and helps organizations to stay aware of all the sensitive data and protect them at scale in AWS.
It works in sync with Amazon Web Services to maintain integration with Amazon Macie and allow security teams to automatically discover and protect all sensitive data. CloudDefense.AI serves as a one-stop, user-friendly security platform that unifies with every aspect of your cloud service to help your security team classify and automatically protect all the sensitive data your businesses store.
But before, let's talk about;
What is Amazon Macie?
Amazon Macie is a data privacy and protection service that leverages machine learning and pattern matching to automatically find, classify and safeguard all the sensitive data in AWS. As most organizations are growing, so does the amount of data. It was becoming difficult, costly, and time-consuming for organizations to identify and protect sensitive data manually at a scale.
However, organizations were able to solve this by integrating Amazon Macie, which automatically scans for sensitive data categorized as PII and PHI and helps the organization protect them while lowering the cost.
When you opt for this security service, it provides your business with an Amazon S3 bucket that includes publicly accessible buckets, encrypted buckets, and other buckets assigned to an AWS account. Currently, Macie can only use Amazon S3 buckets, but it is planning to expand its coverage.
Macie, through pattern matching and machine learning, identifies all the sensitive data in the bucket and provides alerts to the security team. Macie also monitors the S3 bucket for security control and makes sure everything is secured.
When you utilize the security platform of CloudDefense.AI that integrates with Amazon Macie to not only help you discover sensitive data in the bucket but also identify suspicious activity.
Using CloudDefense.AI, your security team can discover all types of suspicious activities like the activity of unfamiliar IP addresses, unauthorized access to sensitive data, and downloading a lot of sensitive data. Macie also helps you to meet regulations like HIPAA and GDPR and make sure you can continually achieve the security you need.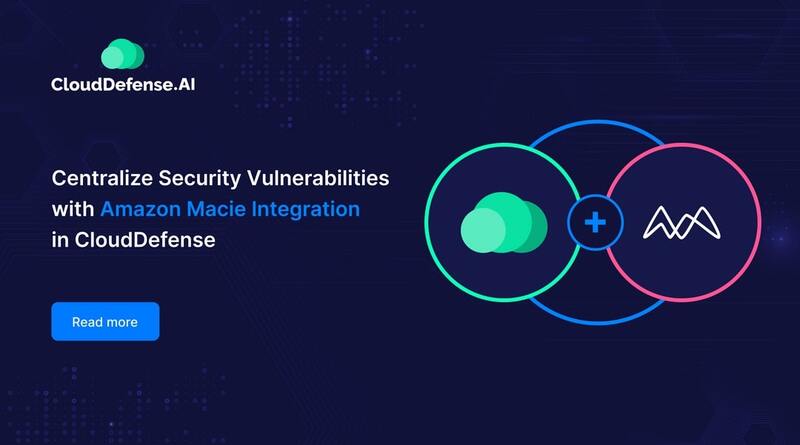 Benefits of Using CloudDefense.AI and Amazon Macie
When you avail of the service of CloudDefense.AI to use Amazon Macie for protecting sensitive data in AWS, you are benefited in many ways. These benefits are;
Constant monitoring of the buckets:
‍With CloudDefense.AI integration with Amazon Macie, your security teams constantly monitor your buckets, especially the Amazon S3 buckets.
You can run the monitoring or discovery of data for one time, daily, or monthly, depending upon the requirement. While monitoring, it will provide a complete bucket summary that you can easily view through the user-friendly interface provided by the security platform.
It automatically finds changes and provides alerts through the interface regarding any buckets outside your designated AWS services, public buckets, and unencrypted buckets.
Discovering sensitive data:
One of the primary benefits you get using the CloudDefense.AI platform is the capability to automatically discover all the sensitive data at a scale, and that too without spending much.
With this platform, you won't have to identify and define data in your system manually. This platform leverages Macie's machine learning and pattern-matching technique to detect the ever-growing list of sensitive data in your AWS, including PII and PHI.
Provides visibility of the security of your data:
The CloudDefense.AI platform integrates with Amazon Macie so that it provides visibility of the security status and privacy of your data stored in AWS.
What's more? It lets you check the security status of data of all your S3 buckets through a single and user-friendly interface. It provides you with all the data in standard form so that your security team can keep track of all the changes.
Helps in meeting all the privacy regulations:
When you opt for the CloudDefense.AI security platform, it allows you to fulfill all the requirements of privacy regulations.
With the help of Amazon Macie, this platform maintains a growing list of sensitive data types in your S3 bucket, including PII, PHI, and other data types. By helping your security team maintain sensitive data types, it enables you to meet the data privacy regulation of HIPAA, PCI-DSS and GDPR, and many others.
Custom define sensitive data types:
You will be surprised to know that through CloudDefense.AI's integration with Amazon Macie, you can define customer-sensitive data types. It lets you add custom-defined sensitive data types in the S3 bucket so that Macie can identify all the sensitive data unique to your organization.
Straightforward setup and management:
CloudDefense.AI's agentless solution helps you set up Amazon Macie in just a few clicks and helps you enable it across multiple AWS accounts. From CloudDefense.AI's dashboard, you can also get started with one API call.
It is beneficial for your organization because you won't need a team to classify sensitive data manually. Moreover, it helps you maintain a fully managed set of sensitive data so that you don't need any customization.
CloudDefense.AI and Amazon Macie
CloudDefense.AI is a highly productive and user-friendly security platform, and it helps organizations working on AWS to regularly monitor, classify and protect sensitive data in the S3 bucket. With its integration with Amazon Macie, it allows businesses to set up Macie across all the AWS accounts and run sensitive data discovery jobs across the cloud.
Amazon Macie and CloudDefense.AI together ensure an automated and efficient automated discovery of all the sensitive data and protect them from any kind of breach. As CloudDefense.AI works closely with AWS, it offers you a large dashboard that shows you all the activities associated with the sensitive data.
Through the dashboard, you not only can see how the S3 buckets are categorized, but you also get an overview of the total S3 storage and the number of buckets consumed. Using the platform, you can easily create and carry out data discovery tasks to automate the discovery of sensitive data in S3 buckets and report them to the security team.
As a reputed security platform, CloudDefense.AI works well with Amazon Macie and lets you get policy-finding and sensitive data-finding reports. You can also get all the findings of Amazon CloudWatch events which helps your organization to build alert and remediation processes through the CloudDefense.AI's platform.
If you want to discover all your sensitive data at scale and safeguard, then you should opt for CloudDefense.AI's security service that will help you bring on-board Amazon Macie with a few clicks.
‍
‍