In today's fast-paced digital landscape, ensuring the security and reliability of your applications is paramount. That's why CloudDefense.AI is thrilled to announce its latest integration with Opsgenie – the industry-leading incident management and alerting platform. With this powerful integration, CloudDefense.AI takes your security and incident response capabilities to a whole new level.
What is Opsgenie?
Opsgenie is a robust incident management and alerting platform designed to help organizations effectively respond to and resolve incidents across various domains, including IT operations, development, and security. It provides a centralized and streamlined approach to incident management, ensuring that critical issues are promptly identified, communicated, and addressed.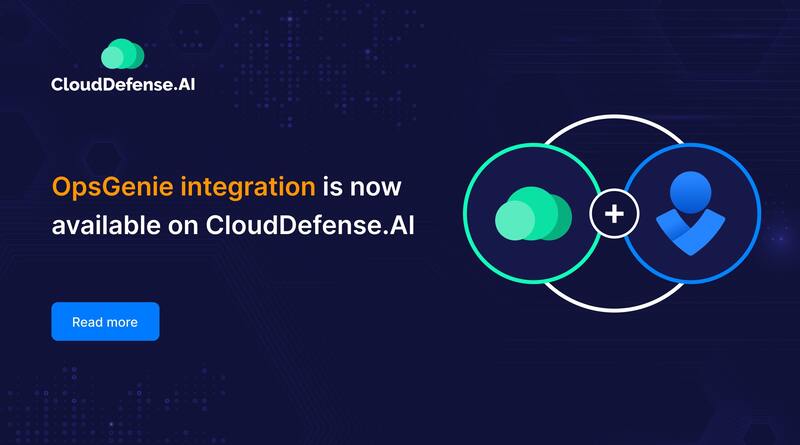 Benefits Opsgenie integration with CloudDefense.AI Brings:
Integrating Opsgenie with CloudDefense.AI opens up a world of possibilities for customers across a variety of domains, from cloud security to vulnerability management and beyond.
Let's explore how Opsgenie can help customers when integrated with CloudDefense.AI's comprehensive CNAPP offerings, which include CSPM, CIEM, Vulnerability Management, CWPP, and KSPM.
1. Streamlined Incident Response:
Opsgenie's integration with CloudDefense.AI enhances incident response capabilities across the CNAPP spectrum. When CloudDefense.AI detects potential vulnerabilities or security threats, Opsgenie can instantly create incident records. This allows security and operations teams to respond swiftly and effectively, reducing the time it takes to mitigate risks.
2. Real-time Alerting and Notification:
With Opsgenie integrated into CloudDefense.AI, customers can configure real-time alerting and notification workflows. When a security misconfiguration or a critical vulnerability is identified, Opsgenie ensures that the right personnel are immediately notified, even if it's outside regular working hours. This ensures that security incidents are addressed promptly, minimizing potential damage.
3. Enhanced Collaboration:
Opsgenie's collaboration features are invaluable in a CNAPP environment. When an incident occurs, Opsgenie provides a central hub for cross-team communication and collaboration. This is particularly beneficial when addressing complex vulnerabilities or ensuring that security policies are being enforced effectively.
4. On-call Scheduling and Escalation:
CloudDefense.AI's CNAPP platform often involves round-the-clock monitoring and protection. Opsgenie helps manage on-call schedules for security and operations teams. If an incident requires escalation, Opsgenie ensures that the issue is handed off seamlessly to the appropriate team member, guaranteeing continuous protection.
5. Customized Incident Workflows:
Every CNAPP environment is unique, and so are the incident management requirements. Opsgenie allows customers to create customized incident workflows that align with their specific needs. Whether it's addressing vulnerabilities, responding to policy violations, or securing Kubernetes clusters, Opsgenie can be tailored to meet those demands.
6. Automation and Orchestration:
Integration between CloudDefense.AI and Opsgenie enables powerful automation and orchestration capabilities. Routine tasks and responses can be automated, freeing up valuable time for security and operations teams to focus on more complex and strategic activities.
7. Reporting and Compliance:
Opsgenie's reporting and analytics features help CNAPP customers track incident trends, measure response times, and ensure compliance with security policies and industry regulations. These insights enable organizations to continuously improve their security posture.
Conclusion
In summary, the integration of Opsgenie with CloudDefense.AI's CNAPP platform extends beyond mere convenience—it's a strategic move to bolster security and operational resilience.
By harnessing the power of Opsgenie's incident management capabilities alongside CloudDefense.AI's comprehensive security offerings, customers can proactively protect their cloud-native applications, infrastructure, and Kubernetes clusters.
This integration empowers organizations to reduce security risks, maintain compliance, and deliver exceptional cloud-native application protection.
Don't miss out on this opportunity to supercharge your security and incident response efforts. By integrating Opsgenie with CloudDefense.AI, you're not just staying ahead of potential threats – you're paving the way for a more efficient, streamlined, and secure future.
Upgrade your incident response game today with CloudDefense.AI's Opsgenie integration. Your digital assets deserve nothing less than the best protection, and together, we've got you covered. Get started now and experience the peace of mind that comes with top-tier incident management.