A chief information security officer, or CISO, is a cornerstone of an organization's security efforts as they are responsible for developing, implementing, and managing information security programs. From managing risk and developer mitigating processes to ensuring compliance with security policies, standards, and laws, the CISO holds many responsibilities in an organization. 
In fact, it is the job of the CISO to prepare their organization to handle modern security threats and also create a robust security culture to stay on top of the rising threats. It is also vital for the CISO to assess the contemporary security landscape and employ best practices to stay ahead of attackers. In this guide, we will explore the top 10 CISO best practices shared by top CISOs in the industry. 
Who is a CISO?
A CISO (Chief Information Security Officer) is a senior executive who is responsible for monitoring and managing the cybersecurity practices and strategies of an organization. CISOs play a crucial role in ensuring the optimum security of an organization's cloud infrastructure by ensuring confidentiality, integrity, and availability of the cloud assets. 
These individuals are also responsible for protecting cloud assets from various risks and cyber threats. The CISO not only safeguards assets and sensitive data but also implements security technologies, establishes security posture, and manages security policies. 
Promoting security awareness and educating employees is also a massive responsibility of a CISO, as it helps them understand their role and responsibilities. In addition, the CISO plays a pivotal role in creating and maintaining incident response plans, while also overseeing compliance management and designing security architecture.
That being said,  let's take a detailed look at the best practices.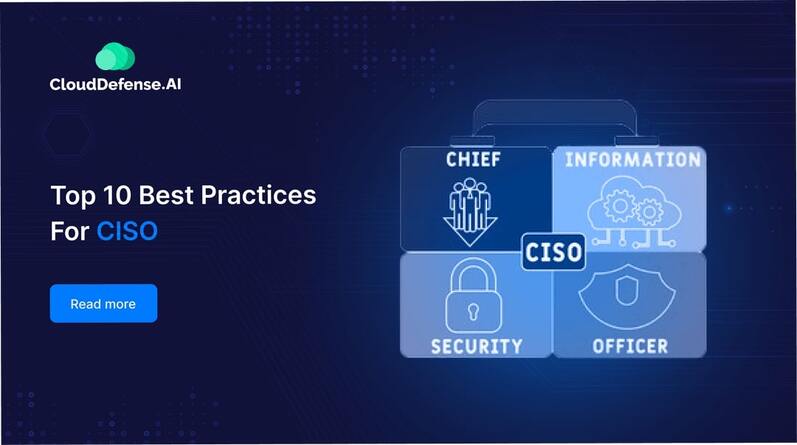 Top 10 CISO Best Security Practices 
1. Building a Potential In-House Team 
It is imperative for the CISOs of every organization to build and manage the in-house security team and provide them with enough resources to ensure the security of the infrastructure. According to top CISOs, you need to create a team around a common motive and focus on your team's productivity so that your team can efficiently reach the organizational security goals. 
However, you have to know your ways to keep everyone on your cybersecurity team productive and engaged in such a way that they get the job done without any exhaustion. 
Since every organization nowadays works on different cloud services, every employee on your team should have basic knowledge about all aspects of cloud security. As a CISO, you need to identify and onboard proficient talent in order to form a cohesive team geared towards enhancing the organization's overall security prowess.
2. Implementing Cloud Migration With Proper Planning
Whenever there is a cloud migration, CISOs must ensure proper planning of the migration process and adequately evaluate the cloud architecture where they are moving. Taking advantage of cloud-native architecture and technologies like Kubernetes and serverless will ensure that your migrated infrastructure will work efficiently on the cloud platform. 
CISOs must execute cloud migration initiatives with meticulous attention to cloud-native security measures. This strategy guarantees the seamless and efficient functioning of existing infrastructure within the new cloud environment. Hence, it is vital to migrate your aging infrastructure to the new cloud with proper planning; otherwise, you won't be able to fully benefit from the cloud-based architectural design. 
Moreover, neglecting this crucial phase risks perpetuating existing issues from on-premises setups into the cloud landscape. Therefore, it's crucial for CISOs to meticulously orchestrate the migration process to ensure a seamless transition and optimized outcomes.
3. Solving On-Premise Biases
There is an on-premise bias when it comes to moving on-premise infrastructure to the cloud, as not every stakeholder and team member is confident and comfortable with the cloud. Since many team members have been working on the on-premises platforms for a long time and have invested heavily in them, this will carry a bias and greatly hinder the migration process. 
However, as organizations expand, maintaining an ever-expanding on-premise infrastructure becomes financially unsustainable. Hence, despite the bias, a strategic shift to cloud infrastructure is crucial. 
Moreover, going past the bias and moving the whole infrastructure to the cloud would be a wise move, as it is going to be reliable and cost-effective when running an extensive infrastructure at scale. So, as a CISO, your role involves skillfully navigating and comprehending the hesitations associated with cloud migration.  
4. Learning From Regulated Industries
Learning and gaining experience from regulated industries like financial services will help you deliver better results as a CISO. Since regulated industries are highly proactive when it comes to cybersecurity, they implement best-in-class cybersecurity strategies to take care of the potential risks. They also have a considerable awareness regarding common and rising security risks in the industry and how they can impact their infrastructure. 
In addition, insights gained from dynamic sectors like SaaS hold significant relevance for CISOs. The distinctive and intricate security challenges presented by SaaS industries, notably the prevalent multi-cloud environments, necessitate robust security policies. Therefore, delving into such intricacies of security postures offers a unique learning opportunity for CISOs. This way, the skills honed in this realm can be effectively leveraged to fortify the cybersecurity posture of one's own organization.
5. Getting General Board and Organizational Support
When you are taking initiatives to improve the cyber security posture of your organization, it is best to reach out to the board members for support. According to renowned cyber security expert Justin Somaini, every CISO should talk with board members and educate them regarding the cyber security initiatives. 
This strategic approach proves advantageous for fortifying the organization's security infrastructure, as board members can subsequently support various security endeavors. However, obtaining comprehensive organizational support extends beyond just board members. CISOs should strive to establish a clear and well-defined process for garnering support from higher authorities across different departments. 
This proactive approach ensures that the necessary backing is readily available whenever critical cybersecurity measures need to be implemented. Ultimately, this collaborative effort reinforces the organization's ability to achieve its cybersecurity objectives effectively and comprehensively.
6. Implementing Shift Left Security In Development Workflow
One of the best practices that every CISO must follow is deploying shift left security in the development workflow so that the cloud engineers have better control over the code and security. 
As top CISOs have suggested, it is vital to integrate security into the deployment pipeline through automation, which will assist engineers in owning their code and its security. 
Sameer Sait, an information security and risk entrepreneur, has highlighted in one of his podcasts that every CISO should focus on the management of processes and asset ownership so that every individual is responsible for methods and their exceptions. He also suggests that organizations working on the cloud should work alongside security companies so that there is optimal concern regarding the security of the products or services.  
7. Unification of Security Policies Across Teams
CISOs should prioritize the unification of security policies across teams, as this approach enhances understanding and awareness among individuals regarding policy implementations. Moreover, this alignment promotes collaboration between auditors and policy teams, enabling a deeper comprehension of technical nuances within team-specific policies.
Andy Steingruebl of Pinterest promotes the use of declarative security policies because it will cause the team to reason when they look at those policies. Due to unification, CISOs can gradually shift to managed code and programming languages which will reduce security mistakes and mitigate the chance of vulnerability attacks. 
8. Effectively Configuring The Cloud
Effectively configuring the cloud is a critical cornerstone of upholding speed and scalability within a cloud environment. The significance of accurate cloud configuration cannot be understated, as errors in this realm have the potential to nullify the advantages of enhanced speed.
According to Roland Cloutier, a global CISO at TikTok, the establishment of a meticulous cloud configuration not only streamlines accessibility but also fortifies the capacity to safeguard an expansive cloud infrastructure effortlessly, thereby diminishing the probability of malicious attacks. With a well-orchestrated cloud configuration in place, the arduous task of grappling with ever-evolving dynamic attack issues is alleviated, enabling swift and efficient mitigation within the span of a mere hour. 
9. Completely Automating Cloud Security
Completely automating cloud security is a widely endorsed best practice by top experts in the field. From Nick Selby of Trails of Bits and Sameer Sait of Amazon to Justin Somaini, everyone advocates the automation of cloud security as much as possible. 
Embracing automation empowers CISOs to exercise comprehensive control over all facets of their cloud security framework. The pivotal advantage lies in enabling engineers to automate the processes of detection and resolution, thereby streamlining the mitigation of security issues. This, in turn, facilitates swift identification and rectification of vulnerabilities without necessitating direct human involvement. 
It's worth noting, however, that Nick Vigier from Rising Tide Security presents an alternative perspective, emphasizing the importance of human oversight in cloud security. Vigier contends that human creativity drives innovation within the realm of cloud security and serves as a driving force for business advancement. 
10. Emphasizing On Vulnerability Management
Vulnerability management stands as a crucial focus for every CISO, as vulnerabilities and privileges form the chief conduits for potential attacks. This emphasis gains even more significance when extended to cloud environments. By integrating robust vulnerability management practices, the identification and timely resolution of security loopholes become paramount. 
This proactive approach ensures that vulnerabilities are addressed before malicious actors can exploit them, fortifying the overall security posture. The incorporation of top-tier vulnerability management solutions, like CloudDefense.AI will prevent exploitation through privileged accounts and also identify new vulnerabilities that may pose threats.  
How Can CloudDefense.AI Help?
Top-tier CNAPP platforms like CloudDefense.AI can help you as a CISO in many ways to perform the best practices suggested by top security experts and CISOs. CloudDefense.AI provides you with numerous solutions that enable you to ensure maximum security of cloud infrastructure. 
Using CloudDefense.AI's vulnerability management features, you can easily manage and mitigate vulnerabilities across your entire cloud architecture. If you are shifting from on-premises to the cloud, it can not only help you with the cloud migration but also automate the complete cloud security. It can help you automate security processes across your CI/CD pipeline through its seamless integration. With this leading CNAPP platform, shift left security becomes easier, and it spares you from spending substantial work hours on security. 
Notably, CloudDefense.AI offers comprehensive coverage of cloud assets, countering any on-premise biases that may exist. This extensive coverage aids CISOs in educating board members on cybersecurity matters, developing better understanding and support. The platform's suitability for regulated industries ensures that adhering to CISO best practices is straightforward. Through CloudDefense.AI's tailored solutions, CISOs can navigate the intricacies of various regulations while strengthening their organization's security posture. In essence, CloudDefense.AI stands as a pivotal tool that empowers CISOs to implement and uphold best practices, fortifying cloud security with efficiency and expertise.
FAQs
1. What are the emerging trends and challenges in the field of cybersecurity that a CISO should be aware of?
Emerging trends and challenges include:
1. Cloud security and securing remote work environments.
2. AI and machine learning-driven attacks and defenses.
3. IoT security and the expanding attack surface.
4. Zero-trust architecture and identity management.
5. Regulations like GDPR and CCPA affect data protection. 
2. What qualifications and skills should a CISO possess?
A CISO should have a strong background in cybersecurity, risk management, and IT. They often hold certifications like CISSP, CISM, or CISA. Leadership skills, effective communication, business acumen, and the ability to balance security with business goals are crucial. 
3. What strategies can a CISO use to create a security-aware culture?
Developing and delivering security awareness training, fostering open communication about security, incentivizing secure behavior, and leading by example can help create a security-conscious culture throughout the organization. 
4. How can a CISO collaborate effectively with other departments?
CISOs should build strong relationships with IT, legal, HR, and other business units. They should communicate the importance of security in business terms, align security goals with overall business objectives, and involve relevant departments in security decision-making. 
Conclusion
The top 10 CISO best practices highlight many vital aspects that CISOs should follow to ensure the optimum security of their cloud infrastructure. In this guide, we have stated the top 10 best practices suggested by top CISOs from leading organizations in the world. These principles collectively form a comprehensive blueprint for CISOs to elevate cloud security measures and cultivate enduringly robust digital ecosystems.